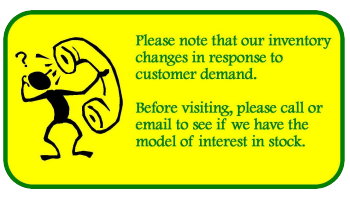 Carry-On Trailers - Quality, Variety,
& great prices!



Click on the picture for larger view. Click web browser back button to return here.
If you have a tight budget or just plain don't want to spend a lot, Carry-On may be the trailer for you. Carry-On is a well-established manufacturer, with a reputation for offering very good value by virtue of good quality, useful features and attractive pricing. And please note that Carry-On is a member of NATM (the National Association of Trailer Manufacturers). This means that even though Carry-On trailers are very affordable, they're also built to industry standards designed to ensure safety and quality. (And as you may have guessed, we mention NATM because not all brands are NATM compliant.)
Carry-On offers a wide range of open utility & ATV trailers, equipment & dump trailers, car haulers, landscape trailers and more. They also offer several model ranges of enclosed cargo and car trailers. In the past, we didn't have an inexpensive small trailer for the homeowner who just needed to take a few containers to the recycling center or a lawn tractor to the shop. With Carry-On, we have several interesting and affordable small utility trailers from a manufacturer who can also meet the needs of commercial users.
5' wide 2000 lb. GVWR models
In the two pictures just above, we're showing a group of Carry-On 5x8 GW utility trailers with open sides and 5x10 GW models with 16" mesh sides. These are the 2000 lb. GVWR models, but Carry-On offers these sizes with 2990 GVWR as well. The GW models feature a rear gate and wood floor. The wood-floored "5 wides" are shown with 13" wheels, which are optional on some models and standard on the mesh-sided models in the 2000 GVWR series.
Wider Utility Models, 2990 lb. GVWR
Moving up a bit in size, the pictures above show several versions of Carry-On's 6x10 and 6x12GW single axle models. "GW" indicates rear Gate with Wood floor. This range is popular because they're big enough for a wide range of jobs, but small enough for easy towing and handling (and they're very affordable!). While the designation implies 6' width, in actuality, the deck on the open models is nearly 76" wide. Carry-On introduced a much-asked-for feature in 2012 – a pipe top rail. In the group of pictures above, we're showing standard angle rail, solid side (22" high), mesh side (24" high) and pipe top models. We've found the mesh-sided models to be extremely popular. While you still have to secure your load, the 24" mesh sides are taller than standard sides and the mesh can keep small items from slipping out under the rails. On the 2990 GVWR models, an A-frame tongue and 15" wheels are standard.
The first and third images above show details of a 6x12 pipe top model, including the integrated ladder-style ramps built into the gate. A nice feature on the Carry-On open trailers, whether pipe top or not, is a gate that can swing forward. If you're pulling the trailer with no load, you can swing the gate forward and lay it on the deck to reduce drag. That's the fourth picture above.
The pictures above are showing two views of an interesting & versatile trailer, the Carry-On 6x12 GWRS. It's a 6x12 (actually 76"x12') in the GW (Gate with Wood floor) series, but the "RS" indicates REMOVABLE SIDES. For convenience, we'll call this model the "RS" in the next paragraph.
With the sides on, use the RS as a normal utility trailer with the convenience of 12" mesh sides. But suppose you decide to go off-roading and need to carry a couple of ATVs? The RS sides remove quickly to become a pair of mesh-covered side ramps. Load one ATV from the rear and the other from the side. Then simply latch the rear gate, reinstall the side panels and be on your way (without the added drag of a side ramp standing 4' or so in the air). (Please note – some ATVs may be too long to park sideways, so if you want to carry 2 ATVs on the RS, please get out the tape and check their lengths.) For added strength at the open sides, the RS has a standard wrap tongue which extends all the way back to the fenders. GVWR on this model is 2990 lbs. and 15" tires are standard.
Tandem Axle Landscape / Utility Models
Carry-On also builds tandem axle landscape trailers. Above are some views of a 7x16GW2BRK, our bread and butter model in the tandem landscapers. You're probably getting the hang of their model designations, but in case you want to leave it to us to do the decoding, that's 7' deck width, 16' deck length, Gate, Wood floor, Brakes on 2 axles.
Carry-On offers these tandem landscape models in two deck widths and a variety of lengths. We've found the 7' deck width to be most popular, but we also often stock the 6'6" width as well. This model is available with brakes on one or both axles. We typically stock brakes on both axles as on the trailer shown here. In some states, brakes on both axles are required, but even if you live in an area where 2-axle brakes are not required, we like the idea of having plenty of braking power if you're pulling a heavy load. The trailer shown here has a 7000 lb. GVWR. Carry-On also offers heavy duty landscape trailers in 9990 lb. GVW ratings.
As mentioned above, the 7x16 is our most popular in this series. It's a favorite with folks who run lawn care operations, as the 7' width can accommodate a 6' mower deck with room to spare. Similarly, the 16' deck can typically handle two zero-turn mowers and miscellaneous equipment. A handy feature on Carry-On's tandem models in this series is the standard split gate. Each half is stoutly constructed, but since you're lifting only half the gate at a time, it's a very manageable lift effort.
Enclosed Trailers
Carry-On offers a wide range of enclosed trailers. That's a Carry-On 5x8CG Cargo model just above. As with their open trailers, Carry-On's enclosed trailers are quality products that hit price points we couldn't achieve with our other brands.
Empty weight on the 5x8CG is approximately 890 lbs. and the GVWR is 2990 lbs., giving a generous payload capacity of approximately 2100 lbs. Standard interior height for this model is 61 inches. A rear door as shown here is standard, but a ramp is available as an option. Standard features include 15" wheels, aluminum skin, aluminum fenders & front stone guard, Galvalume roof, interior light and bright, reliable LED running lights. We find that the 5x8 is very popular with owners of SUVs and minivans. It's easy to handle and easy to pull, but offers much more floor area and volume than the typical vehicle cargo area. The trailer's lower floor height can also make things easier when loading and unloading.
Just above are some Carry-On 6x10 and 6x12 CG and CGR models. The CGs feature a side door and two rear doors. The CGR models feature a side door and the "R" indicates there's a spring-assisted ramp. These 6' wide models feature a very generous 6'6" interior height (6' is common on many brands). These are single axle models equipped with a 3500 lb. axle. In standard configuration without brakes, the GVWR is 2990 lbs. With the optional brakes, the GVWR is increased to 3500 lbs. without change to the structure of the trailer. It may be a minor point, but we think it's worth noting that they don't have to upgrade the structure. Stone guard, interior lights and LED running lights are some standard features on the CG and CGR models.
5' and 6' wide models have lauan interior walls as standard, but we order the 3/8" plywood option on most of our "6 wides." 7' wide models and wider have 3/8" plywood walls as standard. Another handy feature we often order (on our single axle enclosed trailers) is stabilizer jacks. With stabilizer jacks, you can walk inside the trailer without it being connected to a vehicle. Without the jacks, a single axle trailer can tip up if someone inside walks toward the rear. The 3/8" plywood walls and stabilizer jacks are a couple of useful and affordable extras we often include in our quoted prices. If you price shop, keep this in mind to make sure you're comparing apples to apples. The plywood walls and stabilizer jacks are visible in some of the views above. Carry-On offers a wide range of enclosed trailers in 6', 7', 8'and 8.5' body widths, with Gross Vehicle Weight Ratings of 2990, 7000 and 9990 lbs.
For those of you who want a good enclosed trailer at an even more affordable price, Carry-On introduced the Economy Series models. That's a 5x8CGEC above, the "EC" on the end indicating it's an economy model. We stocked one and it sold quickly. We got another and it sold quickly. So we got another… What makes it an "EC" model? The CGEC has 13" wheels rather the 15" of the CG series. The CGEC has a useful interior height of nearly 55 inches. The 5x8 CG's a bit taller at 61 inches. Length and width of CG and EC are the same. The GVWR on the 5x8 EC is 2400 lbs. versus the 2990 of the CG model. The empty weight on the 5x8CGEC is listed as the same 890 lbs. as the CG model. To be honest, since it's not quite as tall, we figure it's really a few pounds lighter, but the fact that both weights are about the same indicates that the EC has essentially the same structure as the more heavily rated CG model. Carry-On offers the CGEC in several 5' wide and 6' wide models, the "5 wides" having 2400 lb. GVWR and the "6 wides" having 2990 GVWR. As on the CG series, the CGEC models feature aluminum skin, aluminum fenders, Galvalume roof and bright LED running lights.
Carry-On also offers a wide range of equipment trailers, dump trailers and specialty trailers,. We've just scratched the surface with this writeup. We keep certain models in stock all the time, while other models come and go based on demand. Have questions about a model not shown here? Give us a call! As always, we invite you to stop by and check out our selection of Carry-On trailers.
Return to What's New Summary.