Bri-Mar & BWise Trailers
Premium Quality in Two Flavors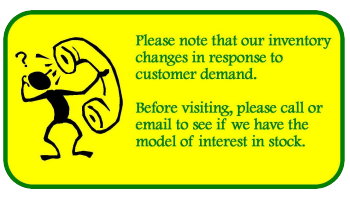 We added Bri-Mar and BWise trailers to our offerings in 2016. Bri-Mar's been in business since 1995 and is a major producer of dump trailers. Their dump trailers seem to be everywhere, but they make a variety of other trailer styles as well. BWise has been in business for about 10 years and purchased Bri-Mar in 2013. It was a homecoming of sorts, as BWise's founder was one of the founders of Bri-Mar. Both brands offer high quality products, with BWise being the more upscale of the two. Both brands are produced in a state of the art facility in Chambersburg, PA.

We like to give some background on the products we offer, but for those in a hurry who want the quick read, please scan down the page. Near the end of the Bri-Mar section, you'll find a link to the Bri-Mar factory website. Similarly, near the end of the BWise section, you'll find a link to the BWise website. We've highlighted the links in red so they're easy to find. For those who want to read a bit about why we selected these brands, read on (and then click on the links to the factory websites…)

Part of the reason we contacted Bri-Mar is because we see their dump trailers everywhere. But they manufacture far more than dump trailers. Here are some of the trailer styles they offer:
* Low Profile Dump trailers, for applications from Residential to Heavy Duty Commercial
* Deckover Dump trailers
* Equipment Hauler Low Profile flatbeds
* Equipment Hauler Deckover flatbeds
* Gravity Tilt trailers, in single and tandem axle sizes (some with Hydraulic Cushion)
* Steel Deck Car Haulers, in Full Deck and Open Deck styles
* Steel Deck Tilt Car Haulers
* UT Series Utility trailers with square tube top rail and uprights, single and tandem axle
* UTE Series Utility trailers with angle top rail and uprights, single and tandem axle
* Dump Inserts – Not a trailer, but one of these it lets you turn your pickup into a dump truck
Even though Bri-Mar is the more affordable of the two brands, it's still a premium product. The first clue is the finish. A Bri-Mar trailer is powder coated on the primer and finish coats. The method by which powder is applied contributes to excellent coverage. They don't just spray the powder and let it land on the steel. The trailer structure is grounded and the positively-charged powder is attracted to it. Bri-Mar runs the steel structure of each trailer through the curing oven once for the primer and again for the finish coat. The heat melts the powder into a hard coating. It goes without saying (but we'll say it anyway) that the trailer-in-process goes through the oven before tires, lights, wiring, etc. are installed, as these items wouldn't take too kindly to the heat. There's a bit more to the process than what we've described here, but suffice to say, even if you don't care about the technical aspects, you'll appreciate that powder coating produces a smooth, glossy and durable finish. Bri-Mar's welds are very nice as well. The combination of tidy welds and powder coat finish produces a good-looking trailer that should look great for quite a while.
Another Bri-Mar cut-above touch is Dexter EZ-Lube axles. Dexter is considered by many to be THE name in trailer axles. Brakes are required on trailers of 3000 lbs. GVWR and higher, and on those Bri-Mars, they're labor-saving Nev-R-Adjust brakes. Also, Bri-Mar doesn't take the "brakes on one axle" shortcut. If it has tandem axles, it has brakes on both axles, standard.
Bri-Mar offers dump trailers ranging from a 5x8 single axle of 3000 lbs. GVWR in their R Series to a 7x16 low profile heavy duty of 21,000 lbs. GVWR in the LPHD series. Lift mechanisms range from 3" to 4" single cylinder on smaller models and most intermediate models to 12K GVWR. You'll find twin telescopic cylinders on LPLE models of 14K GVWR and LPHD models of 12K to 21K GVWR. A combination gate (splits and meters) is standard on some models and available as an option on most others. The combination gate package, whether standard or optional, includes ramps under the bed and 4 D-Rings. And a Group 27 battery is included as standard. Available options include tarp kit, spare tire & mount, aluminum wheels, side & gate extensions and more. (Since we can't fully describe all their dump models in this brief summary, keep reading and you'll find a link to Bri-Mar's website, which has details on each model.)
We've found Bri-Mar's UT and UTE utility trailers to be very popular. They're offered in single and tandem axle models, ranging in size from 5x8 to 7x18. The UTE models have an angle top rail and full-width single gate. UT models feature a square-tube top rail AND square-tube uprights. On UT models, the base and uprights of the rear gate are tube as well. A full-width tube-frame gate would take some effort to lift, so on UT models 6' and wider, the rear gate is split. A couple of nice touches are the tail light guards and the METAL license tag holder instead of the more common plastic. You may have noticed in the photos that the deck boards have a reddish color resembling cedar or redwood. Bri-Mar uses color-infused Dura Color pressure treated lumber for their deck planks. Treated lumber often weathers to gray fairly quickly, but the dyed planks keep your trailer looking new longer.
As mentioned in the model listings, Bri-Mar also offers tilt trailers, car haulers and low profile and deckover equipment haulers. Many models come with LED lighting and radial tires as standard. A gooseneck option is offered for some equipment hauler and tilt trailers. A variety of color options is offered for all models.

This just scratches the surface of Bri-Mar's extensive offerings. Fortunately, Bri-Mar has an easy-to-use and comprehensive website, so there's no need for us to recreate it here. Click here to go to Bri-Mar's website to learn more about the model(s) of interest.

BWise trailers possess everything good we said about the Bri-Mars and then some. BWise offers dump trailers, equipment trailers, car haulers, utility trailers and landscape trailers, but they also offer specialty trailers such as the DU Ultimate Dump series and the new-for-2018 Multi-Tasker, which can be fitted with a variety of options such as Dumpster, Tilt Deck, Dump Bed, Leaf Box and more. Also new for 2018 is the Ultimate Combo, which has a 7'x8' enclosed trailer front section with a 7' x 10' dump body rear section. With the Ultimate Combo, you have your cargo trailer and dump trailer all in one!

BWise offers dump trailers in familiar sizes and capacities as well as sizes and capacities not offered by many manufacturers. BWise dump trailers range in size from the 5x8 DLP8-3, a single-axle trailer of 2990 lb. GVWR, to the DDHD20-23, a deckover gooseneck with 8'x20' dump body and GVWR of 23,000 lbs. The latter has 40" sides as standard. In between, you'll find low-profile dump trailers of 6' and 7' body widths and body lengths of 10' through 18' and GVWRs up to 21,000 lbs. BWise offers a range of deckover dump trailers in body lengths to 16' and GVWRs to 15,400 lbs., some with fold-down sides. Lift mechanisms range from 3" and 4" single cylinder up to 5" and 6" cylinder with heavy-duty scissor hoist on higher capacity models. Many of their lift components are made in-house. (Since we're trying to describe a wide range of models in a relatively brief writeup, we used some generalizations on the dimensions. You'll find a link to the BWise website at the end of this section. You can check exact dump body dimensions there.)


The Ultimate Dump lives up to its name. It comes in dump body lengths of 12 to 16 feet, with 48" sides. The top 20" of those sides folds down for easier loading. And it has several "just press a button" features… There's a hydraulic double-acting ramp gate that lowers to let you load equipment and lifts for metering as you dump. Just to be clear, the ramp gate is powered in both directions. And when it's time to disconnect, no need to crank the jack. That's hydraulic, too.


In BWise's early days, they decided to have some fun with colors and it was a move well-received by customers. If you're looking to call attention to your business or just want an eye-catching trailer for personal use, please note that BWise offers a dozen powder-coat colors as standard. On many models, two-tone is offered at no charge. If you ever saw an Ultimate Dump in Orange or Lime Green with Hammertone (textured dark gray) chassis, you probably took note and remember it. Want green and yellow so your trailer colors match those of your favorite tractor? BWise will do it. Other color combinations are available.

Dump trailer options include side extensions, spring-loaded tarp kit, wireless remote, spare tire, aluminum wheels and more.
Other BWise trailer types include low profile and deckover equipment trailers, gravity tilt and hydraulic tilt trailers (including some deckover tilts) in GVWRs up to 23,000 lbs. They also offer U Series utility trailers, L Series Landscape trailers and open and full deck car haulers. We're showing some details of an L16-7 landscape model. Note the channel top rail with integrated stake pockets, tidy angled corners and the folding 5' rear gate. The 5' gate offers a more moderate loading angle than the more typical 4' gate, but because it folds, you're not dealing with the drag of a 5' gate while towing. Unassisted, that 5' gate would take some effort to lift; fortunately, BWise has included a very effective spring assist.
As with the Bri-Mars, the BWise trailers are powder-coated and there are Dexter EZ-Lube axles. On models equipped with brakes, there are Nev-R-Adjust brakes on all axles. LED lights and radial tires are standard on all BWise models. On dump trailers and hydraulic tilt trailers, a Group 27 battery is standard.

BWise has an excellent website, so rather than attempt to recreate here, we'll link you to it. Click here to go to BWise's website and learn more about the model(s) of interest (and check out some of those color combinations!).
(Some images used with permission of Bwise Manufacturing.)
© 2021 Traveled Lane Trailers, Inc. All rights reserved.
Web site managed by nalweb.net