Böckmann is considered by many to be Europe's premier horse trailer brand. Böckmanns are very high quality trailers loaded with safety and convenience features, but what really sets them apart in the North American market is that they're designed to be towed safely by many of today's smaller, more fuel-efficient SUVs and trucks.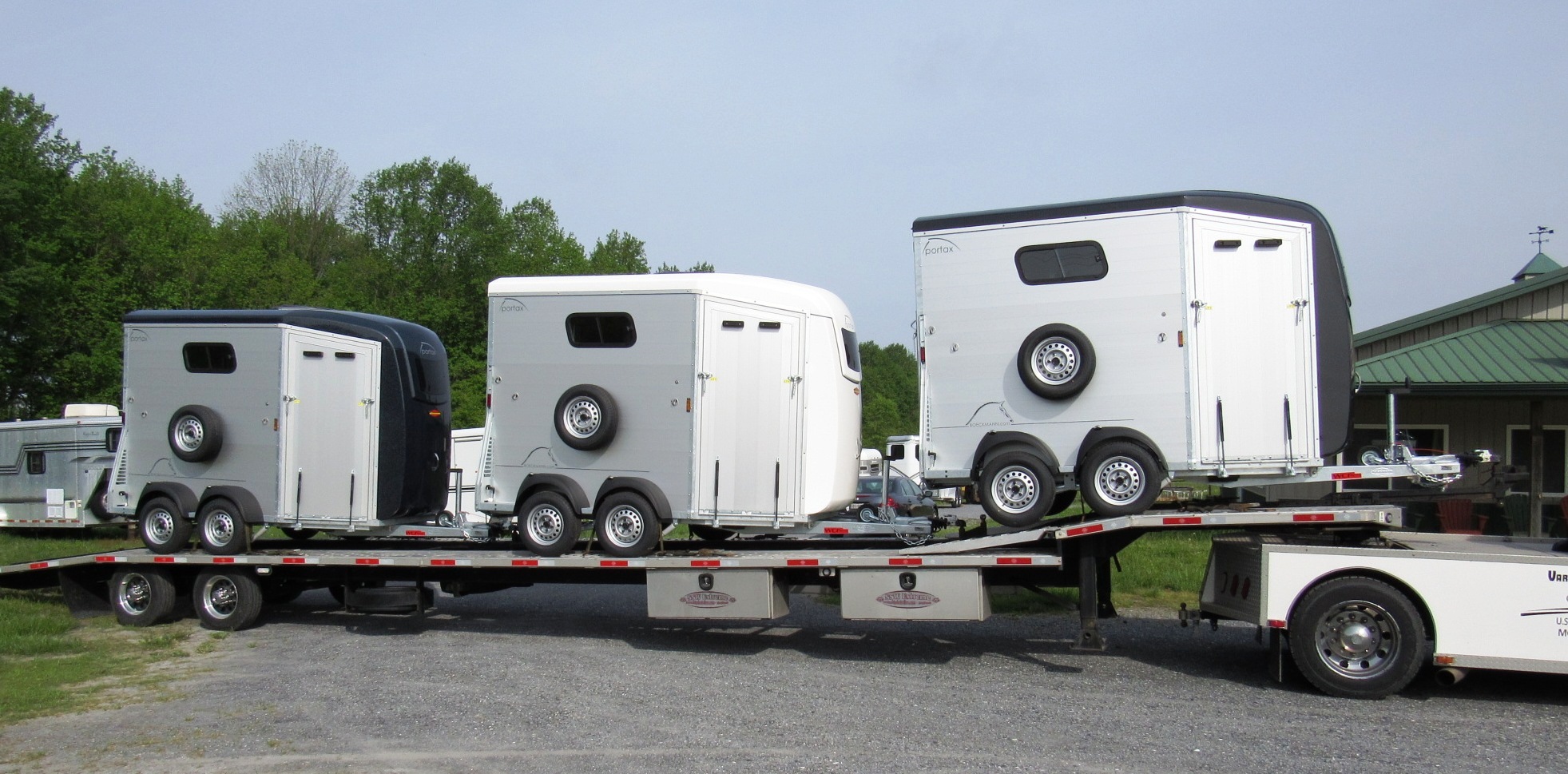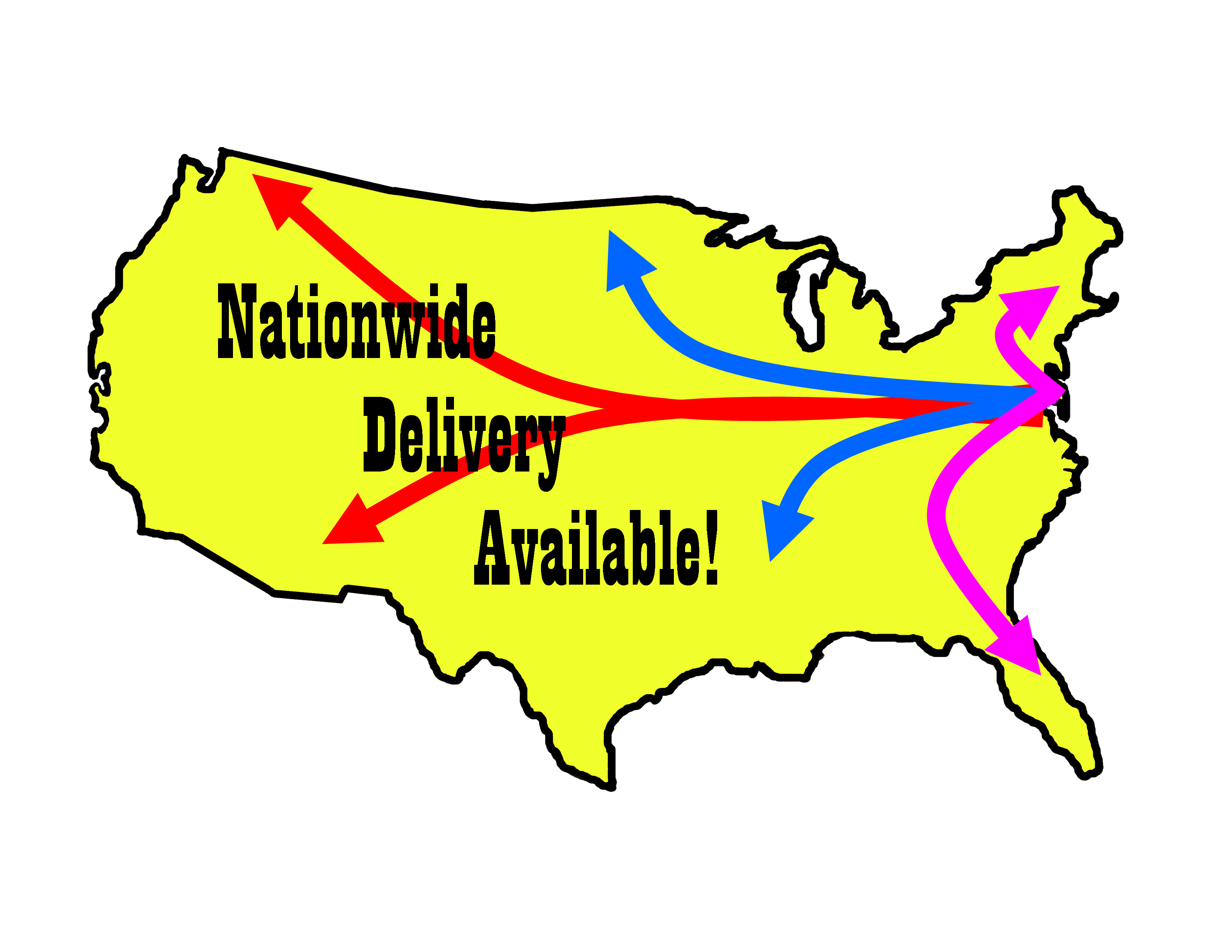 Böckmann's tow vehicle requirements are easy to meet. So easy, in fact, that in many areas of the world, owners pull them safely with cars! Fuel is relatively inexpensive here in the States, but in many countries, fuel is expensive and horse owners can't justify a big, thirsty tow vehicle. Böckmann horse trailers have been in production for over 50 years, so even though their easy-towing designs look modern and advanced (some even say futuristic), they're well-proven on roads all over the world. Böckmann trailers have been imported to North America for over 10 years, so there's an established support infrastructure. Böckmanns have been available at Traveled Lane Trailers since 2011 and we sold another brand of European trailers for 15 years before that, so if you're looking to learn more about Böckmann trailers or want objective information on vehicle suitability, Traveled Lane Trailers is the place to go!
Just how easy is it to tow a Böckmann? Following are Böckmann's vehicle minimum requirements:

1. The vehicle must have at least 125 horsepower. To put this in perspective, this level of power is achieved even by many of today's small 4-cylinder engines (although most Böckmann owners pull with 6 cylinder vehicles or the turbocharged 4-cylinders that have taken the place of sixes in many vehicles).

2. If the vehicle is an SUV or truck, it must have a wheelbase of at least 100 inches. (We're not recommending that you pull with a subcompact sedan, but for illustration purposes, most subcompacts have a wheelbase of 100", plus or minus an inch. The vehicle doesn't have to be huge to tow a Böckmann!)

3. The vehicle must be able to accommodate a loaded tongue weight of 198 lbs. for most Böckmann models (and approximately 223 lbs. for the larger models; for comparison, most domestic 2H bumper pulls carry 10-15% of their weight on the tongue, which typically works out to a loaded tongue weight in the 600 to 800 lb. range.) Please note that the tongue weights shown here are for Böckmanns loaded to the maximum, and most folks don't regularly run with their trailers loaded to the max.
While we're on the subject, another advantage of a light tongue weight is that, on firm ground, it's fairly easy to maneuver a Böckmann to the hitch if you didn't back up perfectly to the trailer…
Ease of towing alone would be enough to make a Böckmann worth owning, but there's much more to like. Böckmann's 2-mode Ramp/Door can be lowered as a ramp or swung aside to permit step-up loading, all in one trailer. The Ramp/Door is standard on Böckmann's Portax models and is available as an option on other models. As far as we know, Böckmann is the only manufacturer in the North American market offering this feature.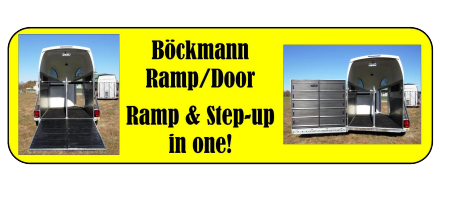 Böckmann's Multi Safe System (MSS) chest & butt bars are another standout feature. Actually, by our count, the MSS stall bars have at least 4 noteworthy features you won't find on most other trailers, as we're about to explain…
Have you ever noticed that many chest & butt bars are either fast to latch or quiet in travel, but not both? Böckmann's MSS stall bars are fast & quiet, they're adjustable and have an emergency release feature! MSS butt bars have 3 height and stall length adjustments. The butt bar wall mounts are angled so that as you lower a bar for a smaller horse, it also shortens the stall. MSS chest bars have two height adjustments. If a horse gets caught under a butt bar or over a chest bar, unscrew an external tie loop (using the handle of the broom that's standard on most Böckmann models) and the bar's wall mount comes down, releasing the bar. The horse is freed and you haven't had to get in the trailer with a panicking horse. If you weren't keeping count, here are those 4 MSS features: 1. MSS bars are fast. (Get out of the kick zone quickly!) 2. They're quiet. 3. They're adjustable. 4. They have an external emergency release. Böckmann trailers are loaded with thoughtful and practical features.
Most trailers built in North America have electric brakes, which require you to have a brake controller in the tow vehicle. And the power setting of many controllers needs to be manually adjusted as the load in the trailer changes. With Böckmann's inertia-actuated mechanical brakes, life is much simpler. As the tow vehicle decelerates, the brakes on your Böckmann apply braking force automatically in proportion to the load in the trailer... You don't need to fiddle with a brake controller. In fact, you don't even need a brake controller! A simple mechanism in the trailer tongue activates the brakes. Böckmann's mechanical braking system has been in use for decades on roads all over the world. It's simple, reliable and well proven. An added bonus is that with this brake design, you also get a parking brake. Brakes are part of the running gear, so while we're focusing on this area of the trailer, please note that Böckmann axles have sealed wheel bearings, eliminating the annual wheel bearing service recommended by most manufacturers. And take note of that handy coupler status indicator - when it's securely on a correctly-sized ball, it will point to the blue "+" zone!
There are plenty of other features to talk about, but let's focus on trailer models for a bit. Of the models we typically stock, the Champion and Comfort are the most affordable. Champion and Comfort are for two horses to 17 hands. Most models have a body height in the 7'6" to 7'8" range, so all are sized to offer good headroom for large horses. The 18-hand models have wider stalls thanks to 4 extra inches of body width.
| | | |
| --- | --- | --- |
| | Champion R | Comfort |
The Big Champion is a slightly wider and longer Champion, for horses to 18 hands. We don't normally stock the Champion Uno, but if you want one, we'll order it. The Uno's 51" body width offers great space for one horse to 17 hands.
| | | |
| --- | --- | --- |
| | Big Champion R | Champion Uno |
The Portax series is for horses to 18 hands. Portaxes have the 2-mode Ramp/Door as standard. In 2015, the Portax nose was widened to offer more space forward for the horses and tack compartment. The Portax E has two full-height groom doors and a 2-door tack compartment accessible from both sides. The Portax K offers the convenience of front unloading and has a roomy tack compartment that includes Böckmann's wider saddle racks that are easily accessible through the standing-height groom door opening. We've found that even if the horses don't mind backing off the trailer, many Portax K owners find the front ramp very handy in allowing the horse handlers to move in and out of the trailer easily.



Portax K

Front Unload




Tack Compartment available




Portax E

- 2 Groom Doors standard




Tack Comp. w/ Saddle Carousel standard
The Portax models are roomy, but some folks prefer a bit more storage space, so Böckmann introduced the Portax L series. Imagine a Portax with an additional 25" of floor space forward of the chest bars and you have the Portax L. Böckmann refers to them as "Portax Large," but they're the same width and height as the other Portaxes, so we prefer to think of them as "Portax Long" in recognition of the added space forward. Many folks use the additional space for storage, but it also gives you more space for working with the horses. The Portax L's 25" of extra length offers a useful increase in interior space while keeping exterior dimensions compact enough for easy maneuverability. And as with other Böckmann models, Portax Ls are designed to be pulled safely by many of today's smaller SUVs, trucks and Crossovers.
Whether Portax or Portax L, we've found the front-ramp "K" models to be the most popular, so in the Portax L series, we tend to stock the Portax L K. (To save some keystrokes, we'll often just call it the "PLK.") As with the Portax K, the PLK has a ramp at the front and a 2-mode ramp/door at the rear. There's a well-equipped tack compartment with two wide saddle racks that extend through the groom door opening for easy access to your saddles. In addition to the added length, the Portax L K has an extra sliding window per side, groom doors on both sides and some other appealing features as part of the standard equipment. To find out more about the Portax L K, click here to go to our PLK detail page or click on one of the photos below.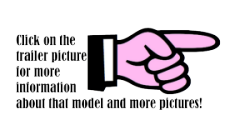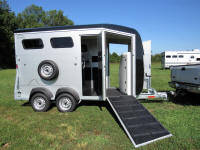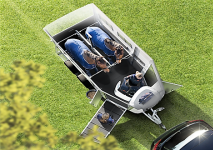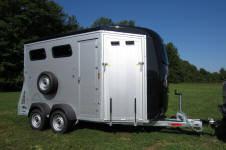 And last but not least in the Portax family there is the Big Portax, a 2H straight load with tack room. Because of its height and width, the Big Portax requires special handling during trans-Atlantic shipment and is offered on a special-order basis only. (And we'd be glad to order one for you!)






Big Portax – 2H Straight
with Tack Room
If you like the aerodynamic lines of Böckmann's polyester models (or "fiberglass" as we call it on this side of the Atlantic), then you owe it to yourself to check out the Grand Master models. They're for horses to 18 hands. The Grand Master SR has a full height tack compartment in front of the left stall. The Grand Master SKA has a roomy half-height tack spanning much of the front area. The Grand Masters are very well equipped in standard form, including removable feeders, polyester (fiberglass) fenders & brace covers and optional-on-most-models aluminum alloy wheels.
Grand Master




SR & SKA


GM SR


Full height tack


GM SKA
Half-height wide tack
The Big Master is for horses to 18 hands, has a roomy tack compartment and a bit more space forward than the other models. The Big Master offers plenty of functionality, but those dramatic contours, created for low aerodynamic drag, also draw a lot of attention.
| | | |
| --- | --- | --- |
| | Big Master in White | Big Master in Red Metallic |
A tack compartment is standard on most models and in those instances where it's optional, we normally order it. On many models, two versions of tack compartment, English and Western, are offered.

Champion Western & English


Tack Compartments


Portax K


Tack Compartment




Big Master




English Tack Compartment
You may have noticed that the Champion, Big Champion and Portax models have silver-gray walls. The walls on those models are anodized aluminum. This is another Böckmann feature worth highlighting. Anodizing is common in the boating industry, where components are often exposed to a harsh saltwater environment. Anodizing creates a tough oxide layer on the surface of the aluminum, which gives it good resistance to the effects of road salt and animal wastes, etc. Most manufacturers don't make the investment in anodized aluminum. Böckmann does, and it pays off for you in durability, low maintenance and long-lasting good looks. (It's still recommended that you clean your trailer to remove potentially harmful substances and to keep it looking as good as possible, but it's good to know that Böckmann uses materials that are a cut above.)
On those aluminum models (Portax, Champion and Big Champion), the walls consist of interlocking stacked tubes. If you've ever seen how they stack the logs to build a log house, that's how they build Böckmann's aluminum walls. The stacked tubes create a double wall structure that's not only strong, it contributes to a comfortable and quiet interior that's not prone to the hollow ringing and booming common in single-walled trailers.
We're big fans of Böckmann's extruded aluminum floor. It's standard on most models, and in those instances where it's optional, we specify it on trailers ordered for our inventory. Each extruded aluminum floor plank has a series of integrated I-beams. Within the length of a typical hoofprint, there are 4 to 5 of these I-beams for support. In areas where the horses stand during travel, each floor plank has an upper and lower surface, this box-section design providing even greater support in those areas of constant high loads. Keeping with Böckmann's practice of going a step beyond (no floor pun intended), a rubber mat is bonded to the floor and the edges are sealed to keep animal wastes from reaching the floor planks. That's great for floor durability, but it also means post-trip floor clean-up is a snap. Just sweep or hose it out. No need to lift a mat!
The roof of every Böckmann is thick, durable fiberglass, available in a wide range of colors. The walls of Grand Master, Big Master and Comfort models are also fiberglass ("polyester" in the product literature), with additional reinforcement to deal with the greater stresses to which walls are subjected. On these models, the body construction is similar to that of a fiberglass boat hull. If you've ever been on a boat at speed in choppy conditions, you have an idea of the toughness of fiberglass. (And as you can see in our examples, the colors may be applied in mix & match fashion. You may even select combinations that will pretty well guarantee an identical trailer won't pull up next to you, or exist anywhere else in the universe for that matter. On fiberglass models equipped with fiberglass fenders and brace covers [optional on most models], you may specify the same or different colors for roof and walls and fenders and brace covers. That's a lot of possible color combinations. Not that they're all attractive combinations…)
Each Böckmann model, whether aluminum or fiberglass, rides on a stout chassis of hot-dip galvanized steel. Galvanizing is a well-proven method of corrosion protection. The 17-hand models such as Champion and Comfort travel on smooth-riding torsion axles with shock absorbers. You'll find torsion axles on your nicer domestic horse trailers, but shock absorbers are rare. The 18-hand models (Portax, Portax L, Big Champion, Grand Master and Big Master) take things a step further – they ride on WCFPlus® coil spring suspension (also with shock absorbers). That's automotive suspension design on a horse trailer – another Böckmann feature that's a cut above!
Want to see some Böckmann trailers in action? Following are links to Böckmann-produced videos showing features and ease of use. (Some of the videos show features specific to the Portax series, but most highlight features common to several Böckmann models. The videos were produced in Europe and show European-market models. Except for minor detail differences such as placement of marker lights, they're essentially the same as North American models. Some trailers in the videos are equipped with optional features, but most of what you see is standard.)
And the video topics are…
Ease of loading and unloading (In this video, please note how the Portax's center post divider lets you swing front and rear sections out of the way to facilitate working with the horses.)
Smooth ride of WCFPlus
®
coil spring suspension.
Ramp/Door swung aside to permit loading of hay, but keep in mind, you can use it for step-up loading, too.
Ease of loading, smooth ride and both modes of the Ramp/Door.
Böckmann is the big name in horse trailers and vans in Europe. Want to see a sample of their range of products? Here's a video of their display at Equitana 2015.
For those of you who like to see information summarized, click on this link: Summary of Böckmann features. We've listed many appealing Böckmann features as bullet points. We spoke about some of the features earlier, but some weren't mentioned, so it's worth a look…
We keep a great selection off Böckmanns on hand and on order, so we invite you to stop by and check them out. See their outstanding quality and features for yourself. As we said in the beginning, we've been selling European trailers for 20 years, so if you have any questions about the trailers or would like objective advice on a potential tow vehicle you own or may purchase, feel free to contact us. We even offer test drives, so if you have a suitable vehicle (and a clean driving record!), come on by and take one for a drive!
(A bit of fine print: We took most of these pictures, but in those instances where we don't have good in-house pictures of a model or a feature, we used pictures courtesy of the Böckmann factory or the importer, Böckmann North America. Most of what we're showing is standard on Böckmann trailers, but some trailers are shown with options. We've tried to make it clear in the text what features are standard, but since it's difficult to cover every detail without making a writeup longer than most people want to read, we just wanted to give you a heads-up that some trailers are shown with options.)