CURRENT USED INVENTORY



Click on the picture for larger view.
Click web browser back button to return here.
2002 Brenderup Baron TC – Convertible InstaTack Dressing Room
and It's Easy to Tow!
This 2002 Brenderup Baron TC came in recently for us to show as a private sale. The Baron is for 2 horses to 18 hands and the "TC" indicates that this one has the desirable InstaTack tack compartment that converts to a dressing room. Travel with the tack lid down to let natural light stream in through the panoramic front window. At your destination, flip the tack lid to vertical and you have a compact dressing room in a trailer that's about the length of a 2-horse without dressing room. And since this is a Brenderup, it's designed to be towed safely by many of today's fuel-saving smaller SUVs, trucks and crossovers (and large vehicles, too!). Whereas domestically-produced trailers typically have loaded tongue weights in the 600-800 lb. range, the Baron is designed to have a maximum tongue weight of 250 lbs. That lighter tongue weight helps even small tow vehicles remain level for more predictable handling. The Baron has long-lasting Solid Phenolic Core (SPC) walls, fiberglass roof and rugged galvanized steel chassis. The butt bars have 3 high positions and 3 low positions to accommodate horses of different sizes. This trailer has its original Baltic Birch laminate floor panel. The floor panel has deterioration in rear corners and along edges, so we recommend replacing the floor. We also noticed some softness in the lower ramp that could perhaps be addressed by an injection of penetrating epoxy. New tires were just mounted and the trailer comes with a couple of Turtle Snaps trailer ties, a lug wrench and Trailer Aid, reflective emergency triangle and collapsible water carrier.
Private Sale on display at Traveled Lane. Asking $5500. Click here to see more pictures.
2005 Brenderup Prestige
Easy to Tow and Affordable. For 2 Horses to 16 Hands



T

his clean 2005 Brenderup Prestige just came in for us to show as a private sale. As the subject line indicates, it's for 2 horses to 16 hands. Empty weight on a Prestige is about 1550 lbs. and loaded tongue weight should not exceed 170 lbs. With the aerodynamic shape, light weight and light loaded tongue weight, a Brenderup may be towed safely by many of today's smaller SUVs and trucks. In Europe, a fair number of people pull their horse trailers with cars! This one has the optional 2nd groom door and there's a 5-way opening window near each horse's head for light and ventilation. Twin gas springs provide a nice assist for the 5' tall ramp and you may run with the rear storm panel up or down. (Most folks run with the panel down). Butt & chest bars each feature 3 height adjustments (and as you lower each fast-action butt bar, it also shortens the stall). This one has Baltic Birch walls and there are a few soft spots, but overall, the trailer shows well. Here's a chance to own an easy-towing Brenderup at a very affordable price. Stop by and check it out!

Click here to see more pictures. Private Sale on display at Traveled Lane. Asking $4950.
1994 Sundowner Charter 2H Straight Load with Dressing Room
Fresh Tires & Has Passed Maryland Inspection

This 1994 Sundowner Charter 2H Straight Load with Dressing Room just came in for us to show as a private sale. New tires were just mounted and it passed Maryland state inspection in August 2019. The horse area has the height and length to accommodate large horses and the dressing room offers good space as well. In the horse area, there's an escape door and running board on each side and there's a removable panel below the stall divider. The trailer features a steel frame and steel skin. Sundowners of this era were solidly built. Inside, the trailer is very clean for its age. The roof seams were sealed several years ago and unfortunately, it wasn't the most effective job. The main structure of the trailer looks solid, but water infiltration at the roof seams has produced rusting of some roof bows that's deeper than surface rust. The plywood panel in the ramp should be replaced, which can be a do-it-yourself job even if you're only modestly handy with tools. In spite of the blemishes noted here, overall, the trailer shows well. If you're looking for a roomy, affordable 2H straight load gooseneck, this could be the trailer for you! Click here to see more photos. Private Sale on display at Traveled Lane. Asking $3950



Can't find the right used trailer? How about a NEW Calico?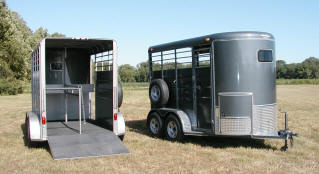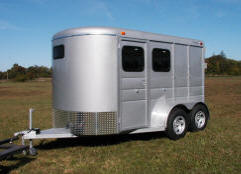 We don't usually show new trailers in our Used trailers listings, but Calicos are so affordable that if you don't find a used trailer that meets your needs, a new Calico might fit your needs and budget. We have a variety of well-equipped and affordable Calico straight loads (some warmblood-sized) & slants.
Click here to go to our Calico trailers section.
---
Private Sales
Disclaimer:
Many
used trailers listed in this section are the property of Traveled Lane Trailers, Inc., but we occasionally list private sale trailers not owned by Traveled Lane. A private sale trailer is identified as such in the description of the trailer. When service or maintenance history is mentioned in a private sale listing, it is based on information provided by the owner of the subject trailer. We cannot guarantee the accuracy of information provided by private owners, nor do we warranty/guarantee trailers identified as "private sale.

"