CURRENT USED INVENTORY



Click on the picture for larger view.
Click web browser back button to return here.
1995 Kiefer Built 3H Slant with Weekender LQ Package –
Well-Equipped, Clean & Affordable!
This 1995 Kiefer Built 3H Slant with Weekender package just came in for us to show as a private sale. It's clean and well-equipped and at an asking price of $9800, it's very affordable. This is an aluminum trailer – extruded aluminum sides, aluminum frame and extruded aluminum plank floor. By our tape, the LQ is 7.5' on the short wall and 10.5' on the long wall. They fit a nice LQ package in those dimensions. We measure a floor length of 20 feet, so it's a manageable size to go with that manageable price.
Private Sale on display at Traveled Lane.
As mentioned above,
asking $9800. Click here for more information and pictures!
1997 Big Tex 6x12 Open Utility Trailer
This Big Tex utility trailer just came in for us to show as a private sale while the owner waits for his new 18' tandem axle trailer to arrive. This size is usually called a 6x12, but by our tape, deck width is 77" (6'5") and deck length is bit over 12 feet, so you get a bit of bonus space. The extra width in particular can come in handy. Big Tex has a reputation for building quality trailers. The sun's baked the red finish, but the structure appears to have held up well. One of the deck boards should be replaced, though. A cut-above feature on this one is the stout tube supports in the tailgate where many brands would have angle. It has new 15" tires & rims (per the tire date stamps, manufactured in the 15th and 20th weeks of 2018). It comes with a spare tire and an extra rim (but to be fair, the spare is very old, so you might want to replace it before you need to rely on it…) Materials prices have gone up significantly over the past year and quality brands in this size are currently approaching $2000. This one's being offered at $750. Private Sale on display at Traveled Lane.


2017 K&K (by Bee) 3H Slant GN Stock Combo –
Versatile, Easy to Handle and Affordable!


We just took this 2017 Bee K&K 3H stock combo GN in trade. Bee is known for their galvannealed corrosion-protected steel panels and even though the K&K brand is their value-priced line, K&Ks have galvannealed walls as well. With a floor length of 15 feet, this one has nicely sized slant stalls, yet is very easy to handle. With the swing-wall dressing room, you can open up the entire interior to haul a load of hay, a small tractor or what have you. Stop by and check it out!
Click here for more information and pictures.
Asking $6800.
2017 Böckmann Portax E – Lightly Used, Easy-to-Tow and Well Equipped!
This lightly-used Böckmann Portax E just arrived to be shown as a private sale. The owner sold her traveling horse and her 28-year-old stays at the farm, so rather than let this desirable trailer sit, she decided a new owner should have the opportunity to use and enjoy it. The Portax series is designed for horses to 18 hands, but thanks to easily-adjustable chest & butt bars, it can accommodate smaller horses as well. Thanks to light tongue weight and aerodynamic shape, a Böckmann can be towed safely by smaller-than-typical vehicles. This Portax E has Böckmann's innovative 2-mode ramp/door as standard (lower as a ramp or swing aside for step-up loading), two standing height groom doors, a 2-door saddle chest with saddle carousel and much more. Click here for more pictures and information about this Portax E. Private Sale on display at Traveled Lane. Asking $16,900. Due to material price increases, the base price of a 2019 Portax E is nearly $20,000, so you can save thousands on this nearly new trailer.


2000 Featherlite 8541 3H Slant Load GN – Solid & Clean!
This 2000 Featherlite 8541 3H Slant came in recently for us to show as a private sale. The owners are downsizing to a 2H bumper pull, so it was time for Old Reliable to find a new home. It shows some patina of use, but it's clean and solid. In our opinion, Featherlites of the 1990s to early 2000s seem to be more solidly built than their current offerings, so this is a nice one to have. There are drop feeds in the head wall and slider windows in the butt wall and rear doors. There's a nice-sized dressing room with removable saddle racks, blanket bar and much more and this one's also equipped with an onboard deep cycle battery and a 1200 Watt inverter to power small 110/120 volt AC devices. The stall dividers have quick & easy slam latches and there's a collapsible rear tack. It's a Private Sale on Display at Traveled Lane. Click here to see more information and pictures. Asking $9400.

1995 Jamco 6H Slant – Jamco Quality at a Great Price
Here's a 1995 Jamco 6H slant that came in for us to show as a private sale. Jamco aluminum trailers feature stacked-aluminum-tube walls (we think of it as analogous to how they built kit log homes). Jamco trailers are very solidly built and feature a high level of standard equipment and excellent craftsmanship. Jamco is a low-volume producer and used ones don't often come on the market. A new version of this trailer would cost about $60,000. Private Sale on display at Traveled Lane. Click here to find out more. Asking $10,900.

Can't find the right used trailer? How about a NEW Calico?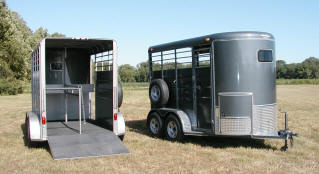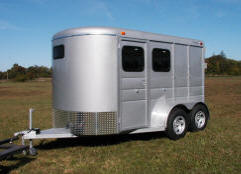 We don't usually show new trailers in our Used trailers listings, but Calicos are so affordable that if you don't find a used trailer that meets your needs, a new Calico might fit your needs and budget. We have a variety of well-equipped and affordable Calico straight loads (some warmblood-sized) & slants.
Click here to go to our Calico trailers section.
---
Private Sales
Disclaimer:
Many
used trailers listed in this section are the property of Traveled Lane Trailers, Inc., but we occasionally list private sale trailers not owned by Traveled Lane. A private sale trailer is identified as such in the description of the trailer. When service or maintenance history is mentioned in a private sale listing, it is based on information provided by the owner of the subject trailer. We cannot guarantee the accuracy of information provided by private owners, nor do we warranty/guarantee trailers identified as "private sale.

"