CURRENT USED INVENTORY




Click on the picture for larger view.
Click web browser back button to return here.
This 2006 Shadow 723 2+1 with Dressing Room just came in for us to show as a private sale. It's been stored inside and it shows. The exterior of this trailer is nearly indistinguishable from new. The interior's been looked after as well, but the exterior is spectacular! The 723 designation refers to the near 7' body width and 23' body length. As a 2+1, it has 2 straight stalls plus a box stall and the box stall in this one is a generous 8.5 feet (compare to 7 to 8 feet on many 2+1s). The side ramp is 5' wide and side and rear ramps are 4.5' tall (compare to 4' on many trailers). The dressing room is approximately 4 feet. There's a pass door between horse area and dressing room and there's a removable stud panel below the straight stall divider. Used 2+1s don't often come on the market and this one's particularly nice.
Click here for more pictures and information.
Private Sale on display at Traveled Lane. Asking $17,500.


1995 Kiefer Built 3H Slant with Weekender LQ Package –
Well-Equipped, Clean & Affordable!
This 1995 Kiefer Built 3H Slant with Weekender package just came in for us to show as a private sale. It's clean and well-equipped and at an asking price of $9800, it's very affordable. This is an aluminum trailer – extruded aluminum sides, aluminum frame and extruded aluminum plank floor. By our tape, the LQ is 7.5' on the short wall and 10.5' on the long wall. They fit a nice LQ package in those dimensions. We measure a floor length of 20 feet, so it's a manageable size to go with that manageable price.
Private Sale on display at Traveled Lane.
As mentioned above,
asking $9800. Click here for more information and pictures!
2017 K&K (by Bee) 3H Slant GN Stock Combo –
Versatile, Easy to Handle and Affordable!


We just took this 2017 Bee K&K 3H stock combo GN in trade. Bee is known for their galvannealed corrosion-protected steel panels and even though the K&K brand is their value-priced line, K&Ks have galvannealed walls as well. With a floor length of 15 feet, this one has nicely sized slant stalls, yet is very easy to handle. With the swing-wall dressing room, you can open up the entire interior to haul a load of hay, a small tractor or what have you. Stop by and check it out!
Click here for more information and pictures.
Asking $6800.
1995 Jamco 6H Slant – Jamco Quality at a Great Price
Here's a 1995 Jamco 6H slant that came in for us to show as a private sale. Jamco aluminum trailers feature stacked-aluminum-tube walls (we think of it as analogous to how they built kit log homes). Jamco trailers are very solidly built and feature a high level of standard equipment and excellent craftsmanship. Jamco is a low-volume producer and used ones don't often come on the market. A new version of this trailer would cost about $60,000. Private Sale on display at Traveled Lane. Click here to find out more. Asking $10,900.

Can't find the right used trailer? How about a NEW Calico?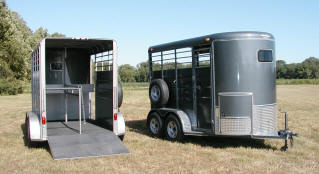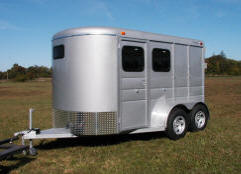 We don't usually show new trailers in our Used trailers listings, but Calicos are so affordable that if you don't find a used trailer that meets your needs, a new Calico might fit your needs and budget. We have a variety of well-equipped and affordable Calico straight loads (some warmblood-sized) & slants.

Click here to go to our Calico trailers section.
---
Private Sales
Disclaimer:
Many
used trailers listed in this section are the property of Traveled Lane Trailers, Inc., but we occasionally list private sale trailers not owned by Traveled Lane. A private sale trailer is identified as such in the description of the trailer. When service or maintenance history is mentioned in a private sale listing, it is based on information provided by the owner of the subject trailer. We cannot guarantee the accuracy of information provided by private owners, nor do we warranty/guarantee trailers identified as "private sale.

"