CURRENT USED INVENTORY



Click on the picture for larger view.
Click web browser back button to return here.
2004 Jamco 2-3H Straight Load LQ – Forward- & Reverse-Facing Stalls
& Much More!!!!
This well-thought-out custom Jamco LQ just came in for us to show as a private-sale. Jamco is a low-volume producer of very high quality trailers. Jamco LQs don't often come on the market. There's a lot that's noteworthy about this one. Let's start with the reconfigurable stalls. It's a straight load LQ. As shown here, it's arranged for 2 stalls facing rearward. Alert readers will notice some extra stall posts. Move the posts, turn the dividers around and you have 3 stalls facing forward. The side and rear ramps make loading convenient for either configuration. Also, it has the desirable WERM (We Eliminate Rubber Mats) flooring system. It's a cushioned coating applied over Jamco's stout aluminum floor; with the WERM system, there are no floor mats to lift. Cleanup is a snap. This one's 7'6 tall, so large horses fit comfortably. The ceiling is lined & insulated and there are plenty of windows and vents for light and ventilation. There's a large mid tack with two doors for convenient ingress & egress. There's a corridor between horse area and LQ for convenient flow between front and back. The passage is large enough to serve as extra storage and please note, in this one, when you move between LQ and horse area, you don't have to walk through the bathroom! The 12' LQ includes a roomy bath, plush mattress (with Egyptian cotton sheets!) and plenty of storage up in the gooseneck, sofa/sleeper, 6 cu. ft. refrig/freezer, sink, 2-burner stove, microwave, more cabinetry and ducted furnace and air conditioning. The well-laid out bath has a large quarter-round shower, vanity and toilet. There's a power awning and up on the roof, you'll find a hayrack, propane-fueled generator (on the hayrack, with pushbutton start in the LQ) and a solar panel. There are 2 LP bottles for LQ systems and 2 more for the generator. You'll also find electric/hydraulic landing gear and much more. As sometimes happens, we were pressed for time to prepare this introductory listing on a Friday just before closing for vacation. We have about 200 pictures of the trailer, so as the schedule permits, we'll expand this listing to provide more details and likely include more pictures. In advance of the expanded listing, click here to see more pictures. Private Sale on display at Traveled Lane. Asking $44,900. (A 2018 equivalent would price out at $100,000+).
1995 Jamco 6H Slant – Jamco Quality at a Great Price
Here's a 1995 Jamco 6H slant that came in for us to show as a private sale. Jamco aluminum trailers feature stacked-aluminum-tube walls (we think of it as analogous to how they built kit log homes). Jamco trailers are very solidly built and feature a high level of standard equipment and excellent craftsmanship. Jamco is a low-volume producer and used ones don't often come on the market. A new version of this trailer would cost about $60,000. Private Sale on display at Traveled Lane. Click here to find out more. Asking $13,400.
C
an't find the right used trailer? How about a NEW Calico?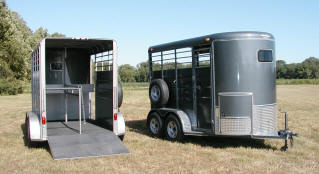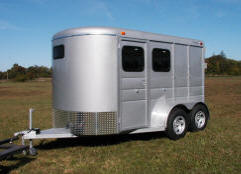 We don't usually show new trailers in our Used trailers listings, but Calicos are so affordable that if you don't find a used trailer that meets your needs, a new Calico might fit your needs and budget. We have a variety of well-equipped and affordable Calico straight loads (some warmblood-sized) & slants.
Click here to go to our Calico trailers section.
---
Private Sales
Disclaimer:
Many
used trailers listed in this section are the property of Traveled Lane Trailers, Inc., but we occasionally list private sale trailers not owned by Traveled Lane. A private sale trailer is identified as such in the description of the trailer. When service or maintenance history is mentioned in a private sale listing, it is based on information provided by the owner of the subject trailer. We cannot guarantee the accuracy of information provided by private owners, nor do we warranty/guarantee trailers identified as "private sale."