CURRENT USED INVENTORY



Click on the picture for larger view.
Click web browser back button to return here.
2005 Kingston Windsor - 2H Warmblood-sized BP
Well Kept, Well Equipped and Easy to Pull!

This very clean 2005 Kingston Windsor 2H straight load just came in for us to show as a private sale. The owner had to give up riding, so rather than let this very desirable trailer sit unused, he decided a new owner should have a chance to enjoy it. An interesting thing we heard from Windsor buyers over the years was that even though the Windsor has the room to accommodate their large horses comfortably, they liked that it is not excessively wide. It's more relaxing to drive on the tight backroads that are not uncommon in this area. This one's been well kept. At about 2700 lbs., it's not excessively heavy, so you don't need a huge vehicle to pull it. Kingston gave the Windsor plenty of desirable standard features and this one comes with several useful owner-provided accessories.

Click here for more information and pictures. Private Sale on display at Traveled Lane. Asking $6500.

.
2001 Jamco 2+1 – Versatile, Well-Equipped & Very Clean!
This 2001 Jamco 2+1 came in recently for us to show as a private sale. The original owners still love it, but they've decided it's time to downsize. Here's your chance to own a well-equipped, premium quality Jamco for about half the price of a new one. 2+1s in general are highly sought because they offer much of the versatility of a large trailer in an easy-to-handle size. This 2+1 is particularly attractive because first, it's a Jamco. Jamco trailers have walls of interlocking aluminum tubes. This method of construction produces a very strong and quiet trailer. This one has two roomy straight stalls plus a large box stall and a well-equipped dressing room. In addition to the insulation effect provided by the double wall design, this trailer has the optional lined & insulated ceiling. This one also has a pair of escape doors – a full-height door for access to the box stall and a ¾ escape door for access to the horses in the straight stalls.
Click here for more information and pictures
. Asking $21,900. Private Sale on display at Traveled Lane.
1994 Sundowner Charter 2H Straight Load with Dressing Room
Fresh Tires & Has Passed Maryland Inspection

This 1994 Sundowner Charter 2H Straight Load with Dressing Room just came in for us to show as a private sale. New tires were just mounted and it passed Maryland state inspection in August 2019. The horse area has the height and length to accommodate large horses and the dressing room offers good space as well. In the horse area, there's an escape door and running board on each side and there's a removable panel below the stall divider. The trailer features a steel frame and steel skin. Sundowners of this era were solidly built. Inside, the trailer is very clean for its age. The roof seams were sealed several years ago and unfortunately, it wasn't the most effective job. The main structure of the trailer looks solid, but water infiltration at the roof seams has produced rusting of some roof bows that's deeper than surface rust. The plywood panel in the ramp should be replaced, which can be a do-it-yourself job even if you're only modestly handy with tools. In spite of the blemishes noted here, overall, the trailer shows well. If you're looking for a roomy, affordable 2H straight load gooseneck, this could be the trailer for you! Click here to see more photos. Private Sale on display at Traveled Lane. Asking $3950.



Can't find the right used trailer? How about a NEW Calico?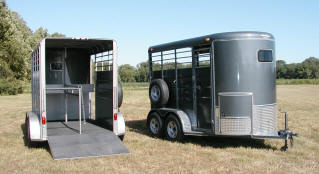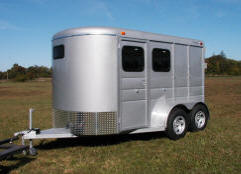 We don't usually show new trailers in our Used trailers listings, but Calicos are so affordable that if you don't find a used trailer that meets your needs, a new Calico might fit your needs and budget. We have a variety of well-equipped and affordable Calico straight loads (some warmblood-sized) & slants.
Click here to go to our Calico trailers section.
---
Private Sales
Disclaimer:
Many
used trailers listed in this section are the property of Traveled Lane Trailers, Inc., but we occasionally list private sale trailers not owned by Traveled Lane. A private sale trailer is identified as such in the description of the trailer. When service or maintenance history is mentioned in a private sale listing, it is based on information provided by the owner of the subject trailer. We cannot guarantee the accuracy of information provided by private owners, nor do we warranty/guarantee trailers identified as "private sale.

"