Model Summary: The Big Master, as one of Böckmann's 18-hand models, is 4 inches wider than many European trailers, providing an extra 2 inches of width per stall. The Big Master has the most space forward of the popular Böckmann models and its 7'8" body height is nearly 2 inches taller than the others, themselves not lacking in headroom for large horses.
By our tape, the Böckmann Champion and Comfort have agenerous 50 inches of head and neck space from chest bars to nose panel. The Big Champion has 55 inches, Portax has an even more generous 60 inches and Big Master tops them all with 65 inches from chest bars to front panel. That's nearly 5.5 feet. That spacious forward area allows Böckmann to equip the Big Master with a large (and well-equipped) tack compartment as standard. We normally order the English tack, but a Western tack version, with wider saddle racks, is offered at no additional cost. The Big Master is one of Böckmann's fiberglass models, featuring fiberglass roof and reinforced fiberglass walls in a variety of matching and contrasting color combinations.
| | | |
| --- | --- | --- |
| English Tack | Tack Pass-Through | Western Saddle Rack |
Whether English or Western, the Big Master's spacious tack compartment is particularly well equipped, with two saddle racks, bridle hooks, 2 large shelves, mirror, storage net, telescoping broom andshovel. In addition, the Big Master comes with two flat-back buckets. Whenit's time to feed or water, slip the buckets into their mounts in front of the stalls. When not in use, there's a storage space for them in the tack compartment. In addition to the exterior tack compartment door at the left front of the trailer, there's an interior door to let you access thetack compartment via the groom door on the other side.
As with the other Böckmann models, the Big Master is designed to be pulled safely by many of today's more fuel–efficient smaller SUVs and trucks. In countries where fuel is expensive, some folks pull their Böckmanns safely with cars. Even thoughit's one of the larger models, when loaded with two horses, the BigMaster is designed so that the loaded tongue weight will not exceed 211 lbs. For comparison, most domestic 2-horse trailers have a loaded tongue weight of 500 lbs. or more. The Böckmann's lighter tongue weight helps a smaller vehicle remain more level for predictable handling. The low-drag shape also reduces the power requirement compared to a less aerodynamic trailer, another reason a Böckmann can be pulled safely by smaller-than-typical vehicles. More information on Böckmann's easily-met tow vehicle minimum requirements can be found on our Böckmann main page.
Body height on every Böckmann we stock is over7'6", so they're sized for large horses, but as mentioned in the opening, the Big Master takes things to even greater heights (literally) at7'8". Body length on the Big Master is a touch under 12 feet. By our tape, usable width for each stall is over 32 inches, so there's room even for broad, muscled horses. (Please note that we use the term"usable width" because the stall widths shown in many brochures ignore space lost to the stall divider, pads and wall structure.)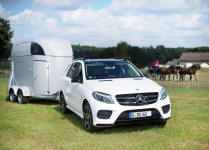 Empty weight of the Big Master is approximately 2200lbs., but keep in mind that the Big Master is balanced so it places far less weight on the hitch than the typical domestic 2H bumper pull, reducing the magnitude of tow vehicle suspension movements. As you drive over an undulating road surface, a trailer's tongue will move up and down, exerting upward and downward forces on your vehicle's rear suspension. The heavier the tongue weight, the more pronounced the vehicle's suspension movements. We offer test drives, and just minutes into nearly every trip, we hear, "it's hard to tell there's a trailer back there." That's due in no small part to a Böckmann's light tongue weight. Combine that sensation of "no trailer back there"with excellent tracking and it's a very reassuring feeling. Butdon't take our word for it. If you have a suitable vehicle (and a good driving record), come on by and take a Böckmann for a test drive!
We've covered Böckmann's thoughtful safety and convenience features in some detail on our Böckmann main page. Rather than repeat all of that here, we'll just summarize some key aspects of the Big Master.
Böckmann's quick & quiet & adjustable Multi Safe System (MSS) chest & butt bars (with external emergency release!) are standard. MSS stall bars help you get out of the kick zone quickly. A rubber mat is bonded to the Big Master's extruded plank aluminum floor and the edges sealed. This protects the floor planks, but more important in day-to-day use, floor clean-up after a trip is quick and easy. No need to lift a mat. Just sweep or hose it out. The Big Master comes with an extra layer of mat under the horses' front feet for added cushion.
The white interior of the Big Master is bright and inviting. There's a large tinted window near each horse's head and we typically specify the roof vent/skylight. Most folks run with the self-furling rear curtain up, so the Big Master offers great natural light and ventilation all around.
The Big Master has Böckmann's well-proven inertia-actuated mechanical brakes as standard. They apply braking force automatically in proportion to the load in the trailer and no brake controller is required in the tow vehicle. Another Böckmann feature to simplify life is sealed wheel bearings. No need to do the annual packing of bearings recommended by most manufacturers. And to top it all off, the Big Master has Böckmann's smooth-riding WCFPlus® coil spring suspension as standard equipment.
All Böckmann models are well equipped in standard configuration, but options are available. On the Big Master, several wall and roof color combinations are offered. Whereas most models have black plastic fenders as standard, the Big Master comes with fiberglass fenders and brace covers as standard. The fenders and brace covers may be specified in colors that match or contrast with the wall and roof color(s). Other options include 2-mode Ramp/Door, solid and lattice head dividers, fold-down mounting step, exterior tie bar/saddle rest, alloy wheels, small/ large/extra-large graphics and more.
(Please note: Most of the features shown here are standard, but some trailers are shown with options. We took most of these pictures, but some images are courtesy of Böckmann North America and Böckmann Fahrzeugwerke GmbH. Sharp-eyed readers may have noticed that the blue & silver trailer does not have fiberglass fenders and brace covers. It was built before those items became standard on the Big Master. We included that slightly older trailer because we liked the color combination and had some pictures on hand. We're showing Western saddle racks in one image. Those racks are shown in a Champion model, but when the Big Master Western is ordered, it has that wider style of saddle rack.)