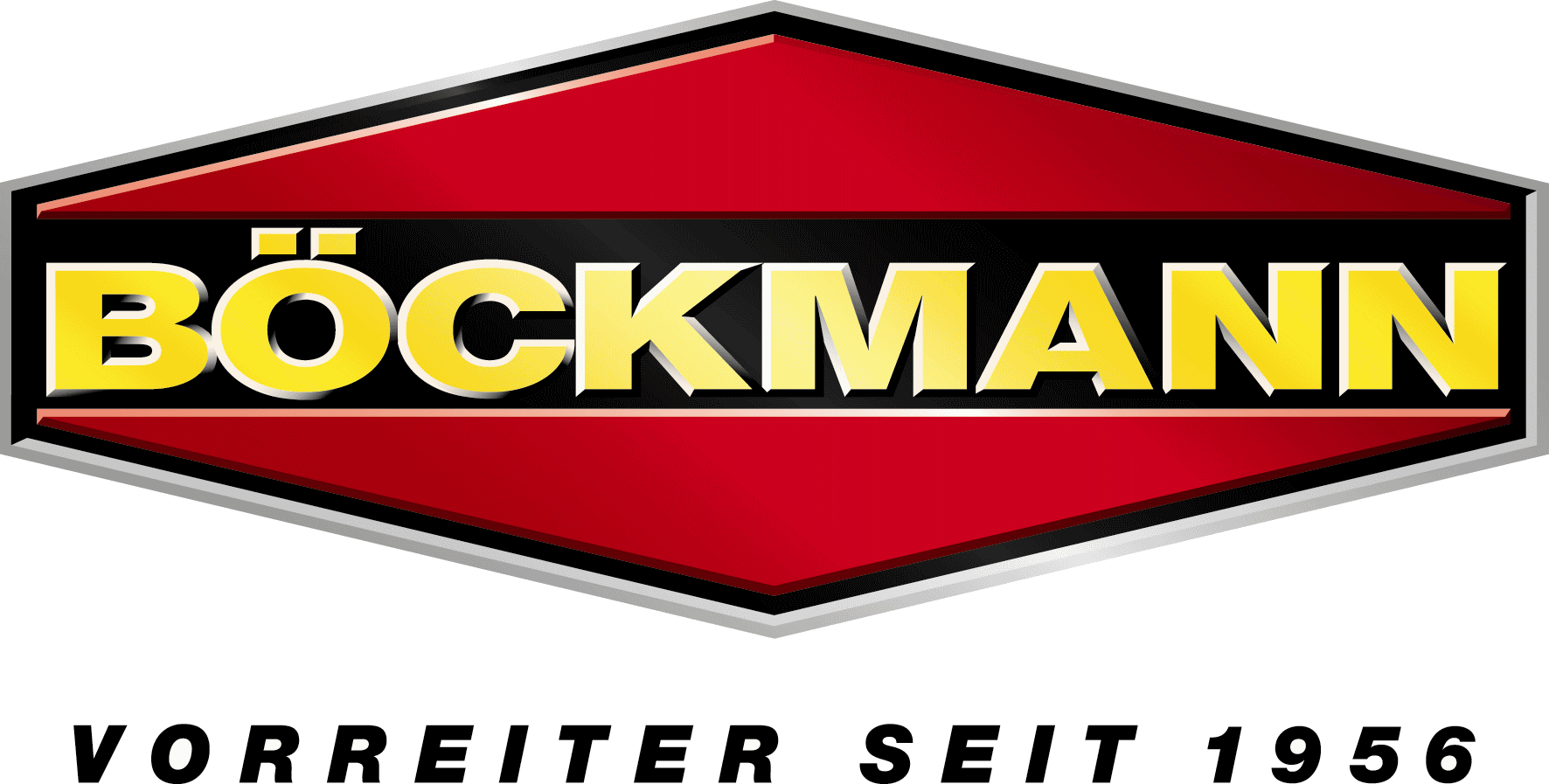 Portax Series

| | | |
| --- | --- | --- |
| Portax K Front Unload | Portax E | Big Portax 2H Straight Load |
There's a whole family of Portax models. The first two we're going to mention are the very popular Portax K and the Portax E, for horses to 18 hands. That's a Portax K on the left and as you can see, it has a front unload ramp. That's a Portax E on the right. Whereas the Portax K has a groom door on the left and the front-unload ramp on the right, the Portax E has a tall groom door on each side. Even if your horses back off the trailer willingly and a front-unload capability isn't an absolute must, many owners find the Portax K's easy-to-use front ramp very convenient for people moving in and out of the trailer.

Third in the line above is the Big Portax, a 2H straight load with tack room. Because of its size, the Big Portax requires special handling for trans-ocean shipment and is offered on special-order basis. There's also a Portax SKA (not shown here), which has an exterior door for access to the tack compartment. The Portax K's racks extend far enough that you can stand at the groom door and easily access your saddles. We've found that shoppers prefer by far the Portax K's combination of front ramp and easy tack access and consequently we don't get a lot of inquiries about the SKA.
With the introductions out of the way, let's talk about the very popular Portax K and Portax E and then we'll say a few words about the other Portax models.
A Portax feature that most folks notice right away (possibly influenced by the fact that we have usually just said "here's a popular Portax feature…") is the tall groom door(s). Those of you who have owned or researched European horse trailers have probably come to expect them to have partial-height doors. With a little technique, it's easy enough to get in and out through a partial-height door, but some folks prefer taller doors. And those folks usually purchase a Portax, because Portaxes have standing-height doors. (We could probably call them full-height doors and most readers wouldn't object, but since they're not quite as tall as the walls, we're calling them "standing-height.")
Another thing users like about the Portax series is the 2-mode Ramp/Door. It's optional on most of the other models, but it's standard at the rear on Portaxes. Whether your horse ramp-loads or prefers to step up, the Ramp/Door accommodates, in one trailer.
Following is a link to a factory-produced video on the Ramp/Door:
Ramp/Door swung aside to permit loading of hay, but keep in mind, you can use it for step-up loading, too. This is one of the links listed on our Böckmann main page, but we've included it here as well because the Ramp/Door is a significant standard feature on Portax models.
As mentioned in the summary, the Portax E and K are for horses to 18 hands. The body length on each is 11'6" and body height is a touch over 7'6". As with Böckmann's other 18-hand models, a Portax is 4 inches wider than many European trailers. By our tape, usable stall width is over 32 inches, so stocky, muscled horses fit comfortably. We use the term "usable stall width" because brochures usually overstate things by ignoring space lost to the stall divider, pads and wall structure. While a European trailer isn't as bulky as the typical domestic trailer, keep in mind that over here in the States, many of our horse breeds originated over there. The trailers were designed to accommodate them.
Portax models have a center-post stall divider that allows the front and rear halves of the divider to swing independently when a butt bar or chest bar is lowered. This divider was developed for the front-unload Portax K so that you may swing the divider to the right to give the horse in the left stall a clear path to the side ramp. Böckmann decided to make the center-post divider standard on various Portax models, where it offers other benefits. Swing the rear half of the divider aside and it presents an inviting wide opening for loading. Or swing it aside to facilitate tacking or putting on shipping boots.
Here's a link to a video that shows Ease of loading and unloading. This is one of the videos listed on our Böckmann main page, but we've included it here as well because it shows how the Portax's center post divider lets you swing front and rear sections out of the way to facilitate working with the horses.
The interiors of the Portaxes are bright, inviting and well-ventilated, thanks to sliding windows on the sides, a fixed window at the front and a roof vent/skylight overhead. Most folks run with the self-furling rear curtain open, further contributing to interior brightness and air flow.
| | | | |
| --- | --- | --- | --- |
| Portax E Tack Compartment | Portax E Saddle Carousel | Portax K Tack Compartment | Portax K Saddle Racks |
A 2-door tack compartment with Saddle Carousel is standard on the Portax E. The Saddle Carousel rotates and telescopes so the saddles may be accessed through either groom door opening. Here's a link to the Böckmann factory video showing the Saddle Carousel in action.

The Portax K has a spacious tack compartment as well. In fact, to our eyes, it appears to be a touch larger than that in the Portax E. The Portax K's tack compartment has wider racks that can accommodate English and Western saddles and the racks extend so the saddles may be easily accessed at the groom door opening (see the 4th picture above).
Here's a link to the Böckmann factory video showing the Saddle Carousel in action.
We have a fairly extensive list of features on our Böckmann main page, so we'll just touch briefly on some Portax standard features, such as the quick, quiet & adjustable Multi Safe System chest & butt bars (with external emergency release), well-proven inertia-actuated mechanical brakes that apply braking force automatically in proportion to the load in the trailer (and don't require a brake controller in the vehicle) and the smooth-riding WCFPlus® coil spring suspension. The walls are of long-lasting anodized aluminum and the stacked aluminum panels create a double wall structure that's strong and quiet. As with most other Böckmann models, a rubber mat is bonded to the extruded aluminum floor and the edges are sealed. This keeps animal wastes from reaching the floor planks, which is great for durability, but more important in day-to-day use, post-trip floor clean-up is a breeze, as you don't have to lift or remove mats.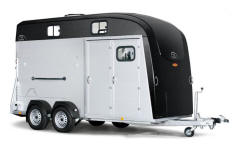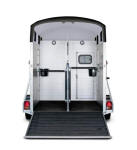 Big Portax 2H Straight Load
The final model to cover on this page is the Big Portax. (We say "this page" because we have a separate page on the popular Portax L models; an intro to those is a little farther down the page.) The Big Portax is a 2H straight load with a walk-in tack room of approximately 46" from front to back wall. Body height is just shy of 8 feet on the Big Portax, so headroom is particularly generous. The Big Portax is 3 inches wider than the other Portaxes, which makes them about 7 inches wider than many European horse trailers. While most Böckmanns are shipped to North America in shipping containers, the Big Portax is too tall and wide to fit and requires special handling for trans-ocean shipment. We typically don't stock the Big Portax, but price quotes will be furnished on request. For those who don't want to special order but want a bit more room, please visit our detail page on the Portax L models, which have an extra 25" forward as compared to the regular Portax models.
Portaxes are very well equipped in standard configuration, but several options are offered. The anodized aluminum walls are always silver-gray, but various colors for the roof and nose are offered. The standard fenders are black plastic, but fiberglass fenders and brace covers in various colors may be specified as an option. Lattice and solid head dividers are offered, as are an exterior tie bar/saddle rest, fold-down mounting step, full width butt & chest bars (to create a box stall), alloy wheels, small/large/extra-large graphics and more.
The Portax K is very popular and we try to keep a good selection in stock. To expand on an earlier point, a lot of customers have horses that back off fine and the Portax K's front ramp isn't an absolute necessity for the horses, but the front ramp is so easy to use that it's even more convenient than running boards or a step for people entering and exiting the trailer. That front ramp is a major factor why so many shoppers who seemingly don't need a front ramp are drawn to the Portax K. If you like the Portax K's front ramp, but would like a bit more storage space, please note that there's a Portax L K with the same front ramp and tack compartment as the PK, but it also has the extra 25 inches forward that's characteristic of the Portax L series. That extra 25" of the Portax L opens up another possibility, a separate tack room, a feature of the Portax L SR. Thanks to their popularity, we try to keep select Portax L models in stock and if you'd like more information, please visit our separate page devoted to the Portax L series. We invite you to stop by and see for yourself why the Portaxes are so popular!
(Please note: Most of the features shown here are standard, but some trailers are shown with options. Some images courtesy of Böckmann North America and Böckmann Fahrzeugwerke GmbH.)