OCTOBER: TRAILERING 101




Part II: And Now the Hitch.
Disclaimer: Please refer to the manuals of tow vehicle, trailer and hitch for recommended operating procedures and limitations before use and/or purchase.
GIVING CREDIT WHERE CREDIT IS DUE. In our continuing effort to provide accurate information to our readers, we contacted the folks at VALLEY INDUSTRIES, Installation and Technical Center (not to be confused with the horse trailer manufacturer). They were more than happy to spend time answering our numerous questions regarding hitches and their associated parts. In the hitch business since 1947, their insight and knowledge was and is invaluable. Please join us in saying THANK YOU to these fine folks.
CORRECTION TO LAST MONTH'S ARTICLE: In Item #3 under the general interest section we made the following statement: There is something called a "weight distribution unit" which transfers the weight from the bumper area to the axles of the vehicle and the result is a lightened tongue load. After talking with the Valley Industries technical folks, we learned that to say "the result is a lightened tongue load" is not totally accurate. For a more in depth discussion and understanding of this concept please read this month's article.
Part II: And Now the Hitch.
Since you read last Month's article "Part I: What Can My Vehicle Tow?", you now know what your vehicle can do, and you have chosen the appropriate trailer, it's now time to get the hitch. We are going to be referring to your Trailer's Gross Vehicle Weight (GVW) several times in this article. If your unclear of its meaning please refer to last months article. Almost every piece of the hitch is dependent upon that very number.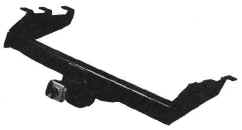 1) Hitch, Bumper Hitch, or Bolt On Receiver. Some of the many names given to this part which is located underneath the back bumper and either bolted or welded to the vehicles chassis. Hitches are broken into "Class" ratings. Each "Class" dictating a different weight carrying capability. Weight and Class ratings are stamped or stickered on the hitch and usually consist of the following four numbers: Maximum Weight Carrying - the recommended maximum trailer Gross Vehicle Weight (GVW) if towing with a standard receiver and ball assembly. Maximum Weight Distributing - the recommended maximum trailer GVW if using a weight distribution hitch (discussed in #4), Maximum Tongue Load Weight Carrying, - maximum recommended amount of weight that the trailer can place on the ball mount or bumper area, and Maximum Tongue Load Weight Distributing - maximum amount of weight that the trailer can place on the ball mount area if using a weight distribution hitch. (we will try to shed some light on this later, if you are unsure about tongue loads or GVW, please read last months article "Part I: What Can My Vehicle Tow?")



2) Receiver or Ball Mount. This unit slides into the square receiving
tube of a hitch. Items to consider: receivers also have weight ratings
associated with them, drop heights vary, the hitch ball shank diameter
size, and slide-in tube size can also vary. Shown in the picture at right are
several different weight rated receivers ranging from 4000 - 9000 lb, all
happen to have 2" square slide-in tubes which is standard for most Class III
hitches, the drop heights ranging from a 2" drop, also called a straight (top),
to an 8" drop at the bottom.
Note: Typically on the front plate or drop down portion of the receiver will be stamped with the recommended hitch pin (see item #5) and hitch ball shank diameter sizes (see item #4).

3) RECOMMENDED TRAILER TOWING HEIGHT: This is a good time to address this issue, it seems to be a point that folks are not aware of and it is very important. All trailer manufacturers have a recommended towing height for their trailers. Usually the rule of thumb is level to slightly up in the nose, but NEVER NEVER down. An exaggerated nose up attitude or nose down can cause stability problems, and think about your poor horses. To find out weather your trailer is sitting properly, you can attach it to your vehicle, leave it empty and find a level piece of ground, then stand back and judge for yourself. The reason we bring this up now is because the drop height of your receiver is what can fix or create this problem. All vehicles set a varying heights off the ground, we have found that most pickup trucks will use either a 2"(straight) receiver to a 4" or even a 6" for some taller 4wds. One the other hand, we have found that most SUVs will use either a 2" (straight) or a 2" or 4" flipped over to be used as a rise instead of a drop. The point we want to stress here is that it is important for your trailer to be setting properly when being towed, if not stability can be adversely affected. We urge folks to check with their trailer manufacturer's for their recommended tow heights and follow their suggestions. And don't forget to ask how to take the measurement, i.e. with trailer empty and connected and setting level &/or measure to the base of the ball as opposed to the top etc...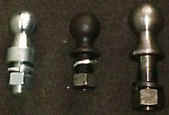 4) HITCH BALLS. Again a couple of items to consider. Like
everything else they too come with different weight ratings.
Ball Diameter sizes differ ranging from 2" to 2-5/16" for most
horse trailers. Shank length and diameter also vary.
Shown left to right: a) 2" 5000 lb ball - 1" diameter shank with a
one inch riser built in. b) 2" 7000 lb ball - 1" diameter shank.
c) 2 5/16" 12,500 lb ball - 1-1/4" diameter shank. About the riser
ball (item a), this can help with your recommended trailer towing height. If you are just slightly
off such that a 2" shorter receiver will make you sit too high this type of ball may be just the ticket.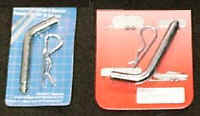 5) HITCH or RECEIVER PINS. These pins hold the receiver in place in the hitch. According to the folks at Valley Industries hitch pins generally come in two different sizes, either 5/8"or 1/2" diameter. As we mentioned before, if you take a moment to look at receivers most of them have their hitch pin and ball shank size requirements stamped on the face or drop portion of the receiver. Something we find ironic about hitch pins, is that when you look at them they do not appear to be very substantial. Yet when you put a hitch together it seems to be the only thing item holding the receiver in place, so why isn't it more substantial and weight rated like everything else? We put this very questions to our folks at Valley Industries. Their response went something like this: Even though the hitch pin appears to be the weakest link actually there is very little stress put on that portion of the hitch at all. If you think about it the trailer exerts more down force on a hitch (hence tongue weight) as opposed to just a straight back pulling force.

6) Weight Distribution Hitch (often mistaken for sway bars or sway control device) A weight distribution hitch slides into your standard hitch or bolt on receiver (item #1) in place of a regular receiver and ball assembly. The "V" shaped arms, called spring arms, run parallel underneath the crossbars or towbars of your trailer. The two items shown between the spring arms are called cuffs. These cuffs attach to the towbars of your trailer. When you hook your trailer up, the chains at the end of the spring arms connect to the cuff which is usually directly above it. On the cuff there is a type of rocker switch if you will, when that rocker switch is engaged the chains tighten and the truck and trailer basically lift at the hitch point, transferring weight to the axles of truck and trailer. To help you understand it a bit better think of the trailer as now being supported or towed from three areas, (ball and two cuffs) as opposed to just one in a normal ball/receiver assembly.
WHEN DO I HAVE TO USE ONE? The answer is simple. If you are hauling a trailer that has a GVW higher than your hitch's maximum weight carrying recommendation and less than the maximum weight distribution recommendation. If your trailer's GVW is higher than the latter you need to get a new hitch. Also, there may be instances where your trailer's GVW is equal to or less than the weight carrying recommendation BUT, the trailer applies more than 10% of its weight to the tongue. It's possible in that type of situation to exceed the maximum weight carrying tongue load also making necessary the use of a weight distribution hitch.

FACTORY INSTALLED HITCHES. Probably 95% of the vehicles we see with factory installed hitches have Class III or 5,000/10,000 lb hitches installed. In many cases the vehicles themselves are rated to tow in excess of 7000 lbs. In this situation if you were going to pull say a domestic built dressing room trailer, most of which gave GVWs near or at 7000 lbs, you would either have to purchase a weight distribution unit or upgrade your hitch. We point this out because most folks are not aware of this situation. If you are going to purchase a vehicle and planning to pull a larger trailer, check into this. You may find that the your vehicle's manufacturer requires the use of a weight distribution hitch above certain weights. However, most times we find that is not the case and the 5,000/10,000 lb hitch is applied because it is part of the "standard" tow package. We think you will also find that many manufacturers offer hitch upgrade options.

We don't want to give you the idea we do not encourage the use of weight distribution units because we do. Especially when you get to the bigger 2 horse dressing room and 3 horse trailers. There are situations though where 2 horse (no dressing room) trailers are made for larger horses, have GVWs near 6000 lbs and for most tow vehicles the weight distribution hitch isn't necessary. But if it is equipped with a 5000/10,000 hitch it will be required. Our point to all of this, is just to make you aware of the situation, if you don't know about it, you can't ask about it.
7) Sway Control Device. Many times this name is mistakenly used to describe the weight distribution unit. We apologize for not having a picture but basically it works like this. A small hitch type ball is mounted to either the left or right of the main trailer hitch ball, likewise a matching ball is mounted on the trailer tow bars. The balls are then connected with a two part rod that has an inner and outer sleeve, each sleeve being attached to a ball. As the trailer goes around the corner, the outer sleeves slides over the inner sleeve shortening the rod and allowing the trailer to turn. Under driving conditions, it is friction that causes the rods not to slide in an attempt to keep the trailer from swaying. It is our understanding from the folks at Valley Industries that most of the units have a "friction adjuster" on them, so if you have a trailer that has a large tendency to sway you can set it higher and vice-versa.

FINAL THOUGHTS: We know there is information in this article which will be of a rather controversial nature to some. We have heard several different reasons to exceed the maximum recommended weight carrying limitations of a hitch without going to a weight distribution hitch. The folks at Valley Industries were very cut and dry with their recommendations regarding towing requirements. If you GVW is above the maximum weight carrying number or you will exceed the weight carrying tongue limitation you use a weight distribution hitch, no exceptions. If you are going to exceed the maximum limitations you need a bigger hitch. Now we realize these folks are from VALLEY INDUSTRIES and that is their views on their products. If you feel because your hitch is made by a different manufacturer and their policies and recommendations are separate from what is stamped on the hitch, we advise PROCEED WITH CAUTION. Take no chances, call the manufacturer. We'd be very surprised if their recommendations are any different from the folks at VALLEY. If they are we'd like to know about them.

Our purpose behind this article was not to make folks experts on hitches. We just wanted to present the article in such away that you can understand the components of the hitch, how they work and what you may require. Many of our customers find the hitch to be a rather mysterious entity because no one has taken the time to explain to them how it works, what they need and why they need it. We take the view, its your horse back there, you ought to to know what's going on. Before we depart we would once again like to thank our friends from VALLEY INDUSTRIES, sharing knowledge is one of the most considerate things a company can do, Thank You!
Next month we will cover gooseneck hitches just briefly, and proceed to electrical plugs and brake controllers which is really the last piece. We apologize for not getting to it all in this month.
Happy Trailering... See you Next Month. (Or whenever we feel like something needs to be said.)


If you have any comments, suggestions or topics for a "Trailering 101" article we'd be happy to take them. Trailering education is our goal.